After three Bladerun's in two years, the Bladerun is back with even more powerboat events this year! The organisers have used the feedback from the participants and their own experience while developing a new format for this years Bladerun. Instead of one or two hardcore powerboat rallies a year Bladerun is now hosting a range of shorter events that will appeal to a bigger crowd.
First Bladerun event this year is the Bladerun UK from 1st to 3th of May 2008. Kicking off with a party at Southhampton, the next day Bladerun UK will head out to the Isle of Wight and finally Brighton for another party. Returning from Brighton to Southhampton for the finish ceremony and final party wraps up the first Bladerun event of 2008.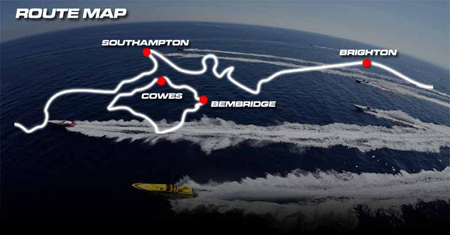 With all events this year it will be possible to charter a powerboat or yacht, ranging from 800 hp raceboats to a 52-feet Sunseeker. At all events marine support will be present for safety and support and the Bladerun helicopter will shoot plenty of photos and videos for the teams and fans!
The second Bladerun this year will start in Amsterdam on the 12th of june for a two day return-trip to Blankenberge. Later that month Bladerun heads out to the Mediterranean for a run under the sun. Ibiza to Mallorca and back to Ibiza sounds like our favorite. Later this year there will also be Bladerun events in the Canary Islands, South Africa, Monaco, Australia, the United States and Dubai. We will keep you updated when we receive more details of the upcoming Bladerun events.
Video:
For more information visit the bladerun website at bladerun.com.