Its been the 6th day of La Carrera Panamericana, where the driver Gabriel Pérez and his codriver Angélica Fuentes, crew of the car number 1, keep their leadership in the general position chart.
Gabriel and Angélica onboard of their Ford, of the Production Tourism category, keep surprising everybody with their development, as we should remember that for the first time in the history, a car of this category leads the charts.
The Mexican crew completed 41 kilometer stage, from the city of Aguascalientes to the city of Zacatecas, in a time of 18 minutes 38 second, accumulating this way an entire time of 2 hours, 49 minutes, 9 seconds. Time that supports them approximately 2 minutes forward to Ralf Christensson who occupies the second position with a time of 2 hours, 50 minutes, 52 seconds.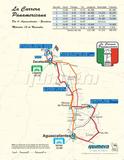 Pierre de Thosy wins day 6
The multichampion Pierre de Thoisy places himself in the first position, followed by the north american Doug Mockett and the third plaxe goes to Daryl Habich.
Worth to mention is the effort made by the french driver Pierre de Thoisy. Even winning the mayority of the phases day to day, due to his mistakes he has not achieved to get the leadership again, placing himself until today in the tenth place in the general chart.