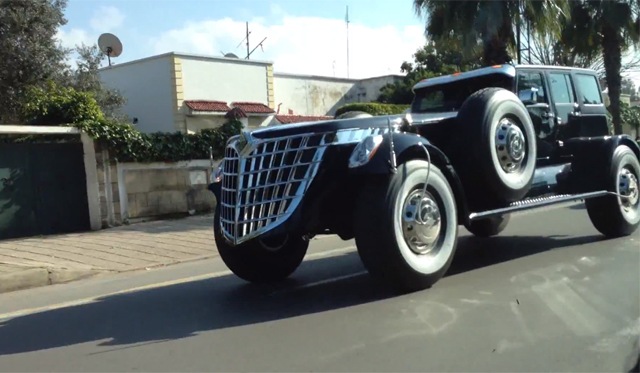 Morocco isn't necessarily known as being a tuning car mecca, and it is especially not known for insanely modified Jeep Wranglers such as the one on display in the video below.
http://www.youtube.com/watch?feature=player_embedded&v=UIYaZdiXd5Q
Not much is known about the owner or his motivations to create such a behemoth of a car (truck?), but what we do know is this mammoth car is based off a stock Jeep Wrangler. Of course, the underpinning chassis borrows more parts from an industrial truck than the YouTube hivemind seems to realize. You know a car is overkill when even we are almost at a loss for words.
If YouTube comments are anything to go by (and they usually aren't), the front grille and fascia appear to be from an International LoneStar Harley-Davidson Special Edition semi truck. Whether or not the owner just bolted a Jeep Wrangler to a semi truck frame, is up to debate.According to a report from Autoblog, the man who owns this custom Jeep also modified another Jeep to equally ridiculous standards. You can see a video of that below.
We aren't sure who this guy is, or what other bizarre creations he may have tucked away, but consider our curiosity piqued. Definitely a cool car to see in person; but to own? Let's just say we won't be signing a check anytime soon.
On second thought, anybody got a line on a cheap flight to Morocco? This guy could turn out to be one of the craziest car collectors in the world. And that's kind of awesome.