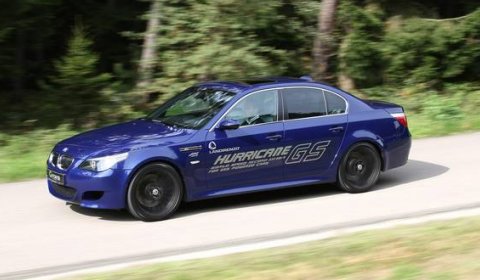 G-Power is back with another high-speed project, which also includes a bit of environmental protection. They have combined their supercharger packages with LPG instead of petrol. The outcome is the G-Power M5 Hurricane GS equipped with one fully sequential five-cylinder LPG system per cylinder bank.
The benefits of LPG as a fuel are both economical and ecological in nature – not only is LPG around 50% less expensive per litre than petrol, it also reduces CO2 emissions by around 15 percent.
660hp and 650Nm of torque are the figures achieved by the SK II bi-supercharger system thanks to low-pressure forced induction with a relative charge pressure of 0.6 bar. Each cylinder bank of the 5.0 liter V10 power plant is equipped with a belt-driven ASA T1-313 compressor.
The final test on the G-Power development protocol is, as always, the calculation of top speed. A top speed of 333km/h – a world record for a LPG car – was reached during testing. From a standing start, it sprints to 100km/h in only 4.6 seconds. The two-tonne saloon passes the 200km/h mark in a total of just 11.4 seconds.
The immense forces are transmitted to the road via 9.0×20 inch and 10.5×20 inch forged Silverstone Clubsport alloy rims clad in 255/35 ZR 20 and 285/30 ZR 20 Michelin tyres. Other addings are the G-Power high-performance braking system and the G-Power RS coil-over sports suspension, with nine-way adjustability for compression and rebound plus infinitely variable height adjustment.
The G-Power II bi-supercharger system including conversion to LPG is available for the BMW M5 and M6.