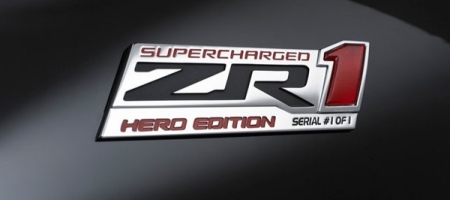 General Motors has build a one-off version of their ultimate sportscar. The Corvette ZR1 "Hero Edition" has been made to honor the brave young heroes served by in a special hospital program build up by the "Kids Wish Network". The special edition ZR1 is placed next to a Black/Red 1967 Corvette 427/390hp roadster. You are able to win both at the end of the year in the "Win The Vette's Corvette Dream Giveaway".
The Kids Wish Network's have a special program called the "Hero of the Month". Each month, participating children's hospitals select a child that has faced and overcome traumatic and life-changing events with courage and spirit. That child then receives the "Hero of the Month" award.
The Hero Edition serial #1 of 1 has red accents, special graphics and additional carbon fibre components. Under the hood you will find a new food for the Eaton supercharged 638hp LS9 V8 engine. The one of a kind red version is visible through the hood's polycarbonate window. Emblems and embroidery add up to the unique place in automotive history. Corvette Team Members Ray Krawczyk, Harlan Charles and Tadge Juechter – see the pictures below -have all signed their names under the hood.
Tickets for the Corvette Dream Giveaway start at just $3. There is no cap on how many tickets will be sold and by purchasing more tickets, the price per ticket decreases while your odds of winning increase. The drawing for the two Corvettes will be held December 23rd and winners will be notified.
To enter the "Win The Vettes" competition and help the heros of the Kids Wish Network, click here to purchase tickets or call 866-WIN-Both (only US) to speak with a representative.
[Via Corvetteblogger]