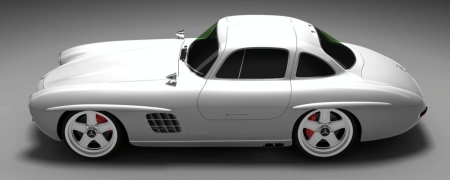 Created as the rebirth of an icon, the 2009 300 SL Panamericana is based on a reproduction from the Gullwing-AG in Germany. Arturo Alonso and his company, Gullwing-America are planning to build this automobile with the technology from 50 years later.
The 300 SL body is constructed with the use of aircraft composite technology. The chassis is made from RHS steel reinforced and powder coated, has independent suspension with adjustable coil overs, four wheel disk brakes, a 5.5 liter Mercedes engine – the one used on the AMG Mercedes models and the SLR – mated to a six speed transmission, special made radiator and exhaust system.
The Panamericana will have a re-tuned electronics raising the horsepower up to 370 and the torque to 530Nm @ 5400rpm. The car will sit lower, have speedtronic transmission, side mufflers, no bumpers, a special grill, four spoke leather steering wheel with power assist, a start button, A/C, a four point harness, Becker Mexico Radio with CD and iPod adapter and fitted leather luggage. It also includes specially made old school 17×8 AMG wheels all around with 235/45/17 Continental Sport contact tires, AMG calipers painted in red, HID headlights and stripes on the fenders like the "Works" cars from La Barrera.
The 300 SL replica is available in black, white with red stripes and silver with blue accents in the front fenders. The interior will have red cover in leather and plaid cloth. The instrument panel is identical to the original 300 SL.
From 2010 you can get a new V6 Mercedes engine with 320hp and 360Nm of torque @ 4900rpm. It can be ordered with a manual six speed gearbox.